The Play
A young man sits in the stairwell of a hospital, listening to a tape that his father had recorded in better days. Thus begins Keith Merritt's brilliant, thought provoking comedy.
In the sometimes absurdist world of a small town hospital, Ethan finds himself back home, dealing with the imminent loss of a father who has grown distant over the years. A burnt-out writer and disillusioned school teacher, Ethan is waiting, stuck in the surreal world that a hospital becomes when you have to hang around for a couple of weeks.
Emerson, an incongruously lively funeral parlor director and one of Ethan's closest childhood friends, has joined him at the hospital, but not, apparently, to offer much sympathy. There is no mercy for the living when Emerson fumbles his way back into Ethan's life and forces him to face the Muzak.
With startling humor and scorching honesty, The Stairwell struggles with the big, messy issues of our short lives: family, friendship, love, loss and those dreams deferred.
This world premiere of The Stairwell was directed by Kaleidoscope's Artistic Director Marshall Mays with lighting design by Tina Stanley, costumes by Kathleen Cullen and sound design by Dean Gray.
Photos by Carol D. Sinozich

The Company
Ethan
Dad
Emerson
Mary
Mr. Kozni

Tony Javed
Ned Butikofer*
Todd Allen Durkin*
Sarah Saltzberg
Ned Butikofer*
Production Staff
Director/Artistic Director
Stage Manager
Lighting Designer
Sound Designer
Costume Designer
Set Designer
Technical Director
Special Properties Design
Set Crew






Director of Public Relations
Benefit Coordinator
Benefit Assistants

House Managers


Postcard Photography
Logo Design
Program

Marshall Mays
Michael Minn*
Tina Stanley
Dean Gray
Kathleen Cullen
Marshall Mays
John Hopwood
Paul Burns
John Hopwood
Paul Burns
Ruth Karmazon
Yang Miller
Mimi Sinozich
Mark Sallinger
Robert Dyckman
Narciso Tovar
Margaret Sinozich
Carol Sinozich
Debbie Damp
Mark Sallinger
Irwin Kroot
Anthony Catanzaro
Carol Sinozich
Tom Foral
Liz Bartucci
Special Thanks
Mark Sallinger, Margaret Sinozich, Paul Burns, Audrey Burns, Joann Passantino, Andy Dawson, Rhonda Pearson, Narci Tovar, Umit Celebi, Betty Pincus, Lisa Stevenson, George Thorn, Nello McDaniel, Micki Hobson, Michael Yawney, Paul Harris, Gian DiDonna, Bob Jude Ferrante, Stuart Warmflash, Melissa Errico, Kate Scuffle, George Miller and the Theatre Outlet in Allentown Robert Dyckman and Marissa Ignacio and the Company of Players

A Conversation with Playwright Keith Merritt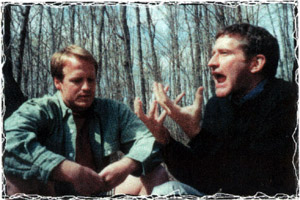 Marshall: Well, I think this is finally recording now. So, you started writing and telling stories when you were a little kid?
Keith: ... I see dead people.
M: You're not making this easy.
K: I see dead people. Wouldn't that be awful? If you did an interview, and all the author would say is "I see dead people."
M: Yes, it would. What things have influenced your work as a playwright?
K: I like poetry. My influences are more books, I think. I have lately been thinking a lot about Ray Bradbury. Not the science fi ion books, but ... "Something Wicked This Way Comes. " One of my favorites. Its so poetic and beautiful and has a deep message about things, but it's not in your fax. It also has a very intriguing story.
M: What kind of work have you done out in Los Angeles?
K: A series of strange and inexplicable jobs, like listening to tragedies on police radios in a small room in the depths, the bowels of a skyscraper downtown. Then there was the job where I took care of hot tubs after they had been used by prostitutes and their johns. And then there was t job where I listened to people complain about fast food restaurants.
M: This is all great material for you!
K: Well. It's my life! No, it was my life.
M: What do you attempt to do when you write? What are the qualities you look for in a play that you really like?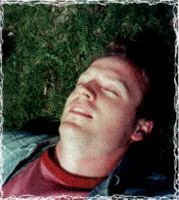 K: I like the poetic in life. I like to look for these things. There needs to be some big conflict, some moral conflict. Life and death. You can have as much drama as you want and it doesn't make it interesting to me, if it's not poetic. So in a play, I guess I like something that has a bigger perspective. It is more interesting to me to see Us versus the Universe.
When my Dad died, in a way, it was very exciting. I could not have been more surprised than if he had turned into a spoon on the bed. I mean, it's a horrible thing to say. It was terrible, but the way it caused the world to look so fresh to me was pretty amazing.
And I think you can do that with any pain that you may have in life. There is a way of looking at it as if it were happening to someone else, so you can get that little bit of distance. And that is what poetry does for me.
I always like to step back a step and say "Oh look at this. I've just had an accident. I'm probably gonna lose my leg. Isn't that FUNNY!" How do you keep certain black, black experiences from corrupting the other things? How do you get back to that feeling of seeing how beautiful the world is?
M: I'll ask the questions here. Friendship seems to be an important part of this play.
K: Which is very difficult for me to write because I hate everyone. Especially my friends because they stick around so much. But at least to stay on the subject and not go off into some crazy-like a pot-induced-not that we are!
M.. No, we are NOT smoking pot!
K: (He coughs, then sings:) "I'm a tangent man!" I am so glad I am not like Robin Williams. He's totally insane.

Biographies

Ned Butikofer* (Dad/Mr. Kozni). Credits include: Creon in Anouilh's Antigone and Chebutykin, the doctor in Chekhov's Three Sisters, (Double Helix Productions); Connie, raised from the dead in Chrisotpher Renstrom's Unearthed, also a Kaleidoscope Production; Dukes Senior & Frederic in Shakespeare's As You Like It (Illyrium Productions) where he won the Jekyll & Hyde Award; Harold in Kessler's Orphans; the Captain in Bruchner's Woyzeck; Mathieu Dreyfus in The Dreyfus Affair (NYCO); Tregorin in Chekhov's The Seagull, Floyd in Jones's The Oldest Living Graduate, Shakespeare in Slover's A March Tale (BYU). He received his MFA in acting many years ago, from SMU in Dallas.

Todd Allen Durkin* (Emerson) trained at New World School of the Arts in Miami. Theatrical credits include: Much Ado About Nothing, Midsummer Nights Dream, The Tempest, Hamlet in Hamlet, Riff-Cat Polito in The Virtual Adventures of Riff-Cat Polito, Salt Water Moon, Agamemnon, and Lenny Bruce in Julian Barry's Lenny, which he was nominated for a Carbonell Award and Named Best Actor in a Comedy by the Miami New Times Magazine. Todd has appeared in numerous comedy clubs throughout the east coast including Caroline's Comedy Club here in NYC. In New York, Todd has worked with such companies as Theatrix, Vital Theatre Company, Millenium Stage Company, TheatreworksUSA and now is happy to be working with Kaleidoscope on The Stairwell. Todd Is currently in rehearsals for Begger on Horseback to be staged by the Peccadillo Theatre Company at the Bank Street Theatre in August. Television and film credits Include: Toothpaste, Reindeer Games, America's Most Wanted, Ghost Stories, Golfballs (nationally released at Blockbuster), and Vote Early, Vote Often, a finalist in the Hollywood Film Festival, which is currently enjoying a very successful run on the International Film Festival Circuit.

Tony Javed (Ethan). Stage credits include Rob in Syria, America with Emerging Artists, Young Gandhi in mahatma.gandhi.com with the Lincoln Center Director's Lab. This past year, Tony has also appeared as Vivek in The Inverted Pilgrimage. He played Josť in Man of La Mancha at the 1300-seat Union County Arts Center where he also served as fight/dance captain. Tony has worked with several sketch comedy troupes earning him good notices for his writing including one from Ben Brantley of The New York Times. Tony is currently workshopping his one-man show, portions of which have been previously seen as one-acts entitled TD and Karma Is a Boomerang. Favorite roles include Ladislav in Wenceslas Square, Renfield in The Passion of Dracula, and Kevin in the award-winning short film Miguel, Ma Belle which has been released on home video in a package of award winning shorts called Boys in Love. Tony played the leading role in the soon-to-be released Meter Maid, an independent film produced by Wesley Snipes.

Sarah Saltzberg (Mary) is a 1998 BFA. graduate of Boston University's School for the Arts, Theatre Division. Favorite roles include Eva in Rimers of Eldritch, Jaquenetta in Love's Labour's Lost, Aldonza in Man of La Mancha, and Sonya in Uncle Vanya. She can next be seen in the soon to be released indie feature Teacakes or Cannolli, playing against type as a brash, loudmouthed Italian, and at HERE theatre on July 18th and 19th in Escape from Groovytown (part of the American Living Room Series). Sarah wishes to thank her parents, her wonderful roommates, and the balance to her Yin, Yang.
Marshall Mays (Director) is the founder and Artistic Director of the Kaleidoscope Theatre Company. Last fall for Kaleidoscope, he directed Laura Henry's The Game, Christopher Renstrom's Unearthed, and Liz Bartucci's The Calling. He has directed five critically acclaimed productions at the Theatre Outlet in Allentown: Craig Lucas's Reckless, Clifford Odets' Waiting for Lefty, Steve Martin's Picasso at the Lapin Agile, the world premiere of Renstrom's Zion and Terrance McNally's Frankie and Johnny in the Clair de Lune. He has also directed new plays with PA Stage Company's New Evolving Works and The Blueprint Company at New York City's First Annual Fringe Festival. Marshall is the author of To Have and to Hold/Dance in the Giddy Circle, which was the hit of the First Annual Festival of New York Plays at Synchronicity Space and was subsequently produced at the Trilogy Theatre in 1996. As an actor, Marshall has appeared in over 50 productions including work at the Gene Frankel Theatre, The Mint Space, the Pennsylvania Stage Company, the Houston Shakespeare Festival, Stages Repertory Theatre and Main Street Theatre in Houston. He earned his MFA in Acting from Penn State University. This August, he will assail that great role of the Shakespearean stage. No, not Lear. He will appear as Bottom in A Midsummer Night's Dream with the Company of Players.
Keith Merritt (Playwright) was born in Scranton Pennsylvania, far off in the woods of Northeastern PA, three hours from the cultural mecca of New York. He occupied himself by talking to trees and making up stories. (You think I'm kidding?) He went to Penn State and received a BFA in Theatre and wrote two plays while there. Mrs. Skinner Yawned was workshopped by Penn State alumnus John Pielmier, author of Agnes of God (who laughed at most of Keith's jokes). This was encouraging. So Keith wrote another play, Voices, which received a full production. Then he set off for New York, to pursue a career as an actor. Two years later he moved to Los Angeles and pursued the same. Upon going to a Wrigley's Doublemint gum audition and having to watch a video teaching the proper technique for putting the gum in your mouth, he became disillusioned with the acting world. Luckily, he had kept writing. He has been creating many shorts for the Internet ranging from the ridiculous to the sublime. Most recently, he finished a book with his sister Sue on the subject of "Finding your purpose as a wheelbarrow full of pitches for projects in every medium of entertainment available to man.
Michael Minn* (Stage Manager) is making his stage management debut. As an actor he has appeared Off-Broadway in Making Tracks and Shanghai Lil's and regionally in The King & I (King), Pajama Game (Sid) and 42nd Street (Julian). He has also toured nationally with the Theatre-works/USA productions of Secret Garden & Swiss Family Robinson. He is a graduate of North Texas State and AMDA. Thanks to Mom & Dad and to Marshall for taking a chance on me. www.michaelminn.com
Kathleen Cullen (Costume Designer) holds an MFA in Theatre Arts from Penn State University. She is happy to be designing the costumes for this production. Dean Gray (Sound Designer) has designed sound for Ensemble Studio Theatre's Thicker Than Water, Delores Whiskeyman's Radium Girls (original music), Guillermo Reyes' Miss Consuelo, and Southern Christmas, Robert Clyman's The Lower Cortex at Playwrights Theatre of New Jersey, Athol Fugard's Blood Knot at the 78th Street Theatre Lab and Kaleidoscope Theatre's Little Miracles. He's directed Jim Grimsley's Math and Aftermath for Harland Productions, The Borderland at Currican and Marshall Mays' To Have and To Hold at Synchronicity and most recently A.R. Gurney's Sylvia for the University of Wisconsin.
Tina Stanley (Lighting Designer) is completing her second season as Technical Director and her third season as Resident Lighting Designer at The Theatre Outlet in Allentown, Pennsylvania. Some of her favorite lighting design credits include Don Pasquale for a touring production of the Metropolitan Opera, The Beauty Queen of Leenane, Picasso at the Lapine Agile, R.U.R., and Ghetto at Theatre Outlet. Tina holds a BA. in Theatrical Directing, a BA. in Theatrical Design, and is currently working toward her MFA. This is her first production with Kaleidoscope.
John Hopwood (Technical Director) comes to Kaleidoscope Theater from Allentown, Pennsylvania, where he is the Assistant Technical Director at The Theatre Outlet. Some of his favorite technical credits include set construction for Frankie and Johnny in the Clair de Lune, lighting design for Agnes of God, and creating the effects for The Beauty Queen of Leenane, an effort which won him a regional award for "Best Stage Effects of 1999."
---
Mission Statement
At Kaleidoscope, we believe that theatre exercises our humanity, it stretches our compassion, it feeds our wit, and it refines and marinates our wisdom. Theatre expands our personal experience, challenges our thinking, and reveals the true realities of our existence in small doses. Very small doses. It's really great if it can be funny too. We see ourselves as stealth educators in humanity, society and reality. Please humor us in this regard.
Our audience is a treasured part of our ensemble and we feel we owe you the very best that we can offer. We truly believe that great comedic plays can have a transforming power and our mission is, with laughter, to fling our audiences "into a kaleidoscope of new possibilities."