The Irreplaceable Commodity (2003)
---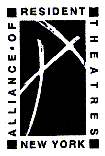 ---

Craig Lucas's hilarious holiday comedy
November 2-19, 2000
78th Street Theatre Lab
3rd floor
The dark-humored production is buoyed with quirky charm and gentle wit, and blessed with a solid ensemble of actors.

Elias Stimac - BACK STAGE. Read the whole review...
We simply could not deal with seeing A Christmas Carol yet one more time. The wacky, soon-to-be-a-Christmas-classic Reckless got the 2000 holiday season started off just right.
---
The Play
'Tis the night before Christmas and a young mom, Rachel, looks out the window of her suburban home at the snow, her two young boys asleep in their rooms. She is euphorically filled with the spirit of Christmas, looking forward to the typical Christmas morning in America with the sounds of young children screaming with delight. But the sound of glass breaking downstairs will change her life forever, separating her from her family and sending her on a Candide-like journey across America...
| | | |
| --- | --- | --- |
| Rachel gets a lift from a strange man named Lloyd... | ...who gets her an office job... | ...working with Trish. |
| Lloyd and his deaf wife, Pooty, give Rachel a Christmas gift... | ...but Pooty isn't really deaf. | The game show, Your Mother Or Your Wife... |
| Rachel, Lloyd and Pooty need the money... | ...so Lloyd thinks really hard...and wins!!! | But Pooty mysteriously dies and Rachel and Lloyd, afraid no one would believe them, flee... |
| ...seeking inner peace by any means necessary. | Rachel ends up at a homeless shelter... | ...and in therapy finding her inner child... |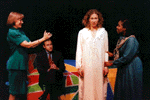 ...and is brought back to life on the Helen Carrol talk show.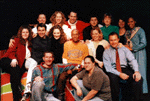 The Reckless cast and crew!!!
Photos by Carol D. Sinozich
---
Elias Stimac - BACK STAGE, November 17, 2000
Craig Lucas'comedy "Reckless" does have its share of wild and carefree moments, but ultimately has more on its mind than its title implies. by the end of the first scene, we realize that sweet simple Rachel is never going to have it easy during the two-act play-you see, her husband has hired a hit man to kill her-and on Christmas Eve, no less. This is just the first of many setbacks Rachel will be forced to endure during the course of the evening. It all leads viewers to wonder whether she can survive such a series of disappointments and disasters without losing it, or whether she had lost it before all the craziness began.
Kaleidoscope Theatre Company is a promising group of artists who seem to have found a home at the 78th Street Theatre on the Upper West Side. This outing is a strong sign that more good things will come from this troupe in the future. Under the direction of Marshall Mays, the dark-humored production is buoyed with quirky charm and gentle wit, and blessed with a solid ensemble of actors.
In the lead role of Rachel, actress Eve Holbrook gives an unassuming and beguiling performance, filling her character with an equal balance of joy and distress. Thomas James O'Leary is perfectly stoic as a roadside savior who offers her a new life, and Lynn Laurence is silently mischievous as his speechless companion. Jeffrey C. Wolf offers a tender portrait as a psychiatric patient who discovers a particular bond with Rachel.
On the design side, lighting by Tina Stanley and sound by Dean Gray combine to keep the ever-changing locales shifting smoothly. Costume designer Kathleen Cullen adds some nice touches to the offbeat characterizations, and the toy box set pieces by Soyoung Kim are a subtle reminder of the protagonist's child-like demeanor.
---
Andrea Alton (Dr. 4, Others) was recently seen playing a neurotic mother in Please Do Not Disturb at The Creative Place Theatre. Other credits include The Lottery (Center Stage Theatre), The No Name Sketch Comedy Show (St Mark's Theatre), Control-Alt-Delete (Bank Street Theatre), and The Best Of Mind Over Matter (The Kraine Theatre). Upcoming projects include the February Production of Naomi in The Living Room & Other Short Plays at the Producer's Club, which Andrea will be acting in and producing. Originally from Portland, Oregon, her favorite productions there were Blue Window, Never In My Lifetime, and Baby With The Bathwater.
Dina Brody (Trish, Dr. 2) is thrilled to be in Reckless and working with The Kaleidoscope Theatre Company. Favorite past roles include Boo in Blue Window, also by Craig Lucas; Puck in A Midsummer Night's Dream; and Hero in Much Ado About Nothing. She is a graduate of Vassar College and The New York Shakespeare Festival/Public Theatre's Shakespeare Lab. She also trained at The American Conservatory Theatre, The Atlantic Theatre Company, and the Actor's Center.
Eve Holbrook (Rachel) most recently assisted Tony Torn in the direction of Julianna Francis' The Baddest Natashas in The Ontological Theatre's Blueprint Series. Before that, she appeared as Jessica in Michael Kahn's production of Merchant of Venice at The Shakespeare Theatre. New York credits include: Miranda Theatre, Small Planet, and Judith Shakespeare Company. Regionally, Eve has appeared in A Midsummer Night's Dream at the Pittsburgh Public, The Golden Age at Hartford TheaterWorks (with Elizabeth Franz), Oleanna at The Schoolhouse, Death Of A Salesman (Gerald Freedman, dir), King Lear, Way Of The World (both with Jack O'Brien, dir), All's Well That Ends Well, Mr. A's Amazing Maze Plays, and Wonderful Tennessee at The Old Globe Theatre. Film: If I Only Had A Toupee, Radio Waves, ZOOWORLD. TV: Days Of Our Lives, General Hospital. She is a graduate of Northwestern University and The Old Globe Theatre/USD's MFA Program and the proud daughter of Hal Holbrook & Carol Rossen. She is loving playing Rachel in this great play & working with Marshall, Bill, Picasso and the fantastic cast of Reckless.
Daryl Lathon (Dr. 1 & Ensemble) is appearing in his first Kaleidoscope Production. Recent NY credits include Dead Reckonning with Soho Rep., Faustus with Genesis Rep., and Imitate the Sun with the Wilful Company. Regional credits include Coriolanus, A Midsummer Night's Dream, and King Lear (The Shakespeare Theatre); Death of a Salesman (New Stage Theatre); Master Class (Theatre Virgina). TV credits include Linc's (Showtime), The Chamber, and Legacy.
Lynn Laurence (Pooty) Lynn's most recent stage credits have been regional productions including: The Rainmaker (Amercian Stage); How I Learned to Drive (Florida Studio & American Stage); The Toxic Wave (Gorilla Theatre); Bus Stop, The Cocktail Hour, Broadway Bound (Bristol Valley Theatre); Arms & the Man (Delaware Theatre). NYC stage credits include: Triptych (New Directions); The Hot L Baltimore & Picnic (American Globe). You can also catch Lynn strolling and dancing behind your favorite stars in Sex in the City, Sopranos, and major releases such as Center Stage, Ransom, and Meet the Parents. Love and infinite gratitude to Steve, always in my corner.
Michael Lucas (Tom, Host) a graduate of Carnegie Mellon University, some of Michael's favorite roles include: the Gentleman Caller in The Glass Menagerie, Bruce in Four Men from Annapolis, and Starbuck in 110 In the Shade. He has appeared in NBC's Will and Grace as Andy and played the lead role of Mark in the film Broadway Damage. He wishes to thank Stephanie and his family for their never-ending love and support.
Lucy McMichael (Dr. 3, Others) New York theatre credits include: The Secret Sits in the Middle (Primary Stages); Brunch at Trudy and Paul's (Manhattan Punch Line); an all-female Cymbeline (Looking Glass Theatre); Say Darling (West End Theatre), among others. Regional: Main Street Arts, Wayside Theatre, North Shore Music Theatre. Film & TV: Jeffrey; Woody Allen's Another Woman; the independent film The Bliss Virus; PBS' Emmy-nominated Trial of Adolph Eichmann; HBO's Oz; and recurring roles on As The World Turns and Guiding Light. Lucy is also a member of The Harbor Theatre Company, and recently performed in Eddie de Santis's play, Ash Wednesday, at the 30th Street Theatre as part of Harbor Currents 2000.
Susan Molloy (Dr. 5, Ensemble) was last seen at Expanded Arts in their production of Frankenstein. Also at Expanded Arts: New Shoes. Favorite roles include Irene Molloy in Hello, Dolly! and Catherine in The Foreigner. Susan would like to thank Marshall for this opportunity and is excited to be part of this great cast.
Thomas James O'Leary (Lloyd) played the title role in The Phantom of the Opera on Broadway for 2 1/2 years including the 10th anniversary season, after originating featured roles in Broadway's Miss Saigon and the national tours of Les Miserables and Chess. Tom is returning to his Off-Off Broadway roots this year, having played Touchstone in As You Like It at the Blue Heron, Michael in the Genesius Guild's benefit performance of The Boys in the Band, and Mr. Sanders in Somewhere in Between at PS NBC. In January Tom will return to the Blue Heron to co-star in Medal of Honor Rag. A graduate of Trinity Rep Conservatory, Tom currently studies with Tim Phillips and Denny Albee. Tom just finished shooting the lead role of Mike Loomis in a short film, The Girls in Their Summer Dresses.
Gisele Richardson (Dr. 6, Ensemble) recently appeared as Nursie in The Fourth Unity production of Tennessee William's Vieux CarrÇ. She has also appeared in Love Me or Leash Me as part of Fourth Unity's Unity Fest; A Young Lady of Property (American Globe Theatre); When a Diva Dreams (The Miranda Theatre). Favorite roles include Ruby in Getting Out (New York Repertory Theatre) and Titinius in Julius Caesar (American Globe Theatre). Regionally, she has appeared with the Actor's Theatre of Louisville and the American Stage Company.
Jeffery C Wolf (Tom Jr., Roy, Tim Timko) was last seen as Cathy/Joshua in the Broad Horizons poduction of Cloud 9. Prior to that he helped bring the message of the Holocaust to area schools in the Pushcart Players production of The Last, The Very Last Butterfly. Regional and stock credits include: As You Like It (GeVa), Sweeney Todd, South Pacific, Evita, Children of Eden, Man of La Mancha, and West Side Story. Originally from Pennsylvania, Jeff dedicates this performance to this family, friends, and wife, Nikol.
Marshall Mays (Director) is the founder and Artistic Director of the Kaleidoscope Theatre Company. Last fall for Kaleidoscope, he directed Laura Henry's The Game, Christopher Renstrom's Unearthed, and Liz Bartucci's The Calling. He has directed five critically acclaimed productions at the Theatre Outlet in Allentown: Craig Lucas's Reckless, Clifford Odets' Waiting for Lefty, Steve Martin's Picasso at the Lapin Agile, the world premiere of Renstrom's Zion and Terrance McNally's Frankie and Johnny in the Clair de Lune. He has also directed new plays with PA Stage Company's New Evolving Works and The Blueprint Company at New York City's First Annual Fringe Festival. Marshall is the author of To Have and to Hold/Dance in the Giddy Circle, which was the hit of the First Annual Festival of New York Plays at Synchronicity Space and was subsequently produced at the Trilogy Theatre in 1996. As an actor, Marshall has appeared in over 50 productions including work at the Gene Frankel Theatre, The Mint Space, the Pennsylvania Stage Company, the Houston Shakespeare Festival, Stages Repertory Theatre and Main Street Theatre in Houston. He earned his MFA in Acting from Penn State University. This August, he will assail that great role of the Shakespearean stage. No, not Lear. He will appear as Bottom in A Midsummer Night's Dream with the Company of Players.
William Cusick (Assistant Director) a film student at St. John's University, William has written, produced, and directed several one-act plays, an award-winning short film, and will be directing A Midsummer Night's Dream this spring at his college. A founding member of The Blue Party, this past summer he directed their experimental cineplay G.O.D., which he co-wrote. William is currently at work on his next short film, Mind@Large, intended for 2001 nationwide festival entry.
Craig Lucas (Playwright) is the author of the plays Missing Persons, Reckless, Blue Window, Prelude to a Kiss, God's Heart, The Dying Gaul, the movies Longtime Companion, Prelude to a Kiss and Reckless. This version of Reckless originally premiered at Circle Repertory in September of 1988, directed by Norman Rene. Also with Norman Rene, he created Marry Me a Little, songs by Stephen Sondheim; with composer/lyricist Craig Carnelia, the musical play Three Postcards. He has received the Literature Award from the American Academy of Arts and Letters, the Obie, the Outer Critics Circle, and George and Elizabeth Marton awards, fellowships from the Rockefeller Foundation, the Guggenheim Foundation, NEA/TCG; he has received three Drama Desk nominations, a Tony nomination, and has been a Pulitzer finalist. His play Stranger is currently playing at the Vinyard Theatre and his newest play This Thing of Darkness, was co-written with David Schulner. He is a member of a Dramatists Guild, PEN and the ACLU.
Dean Gray (Sound Designer) has designed sound for Ensemble Studio Theatre's Thicker Than Water, Delores Whiskeyman's Radium Girls (original music), Richard Greenberg's Three Days of Rain at Stageworks, Guillermo Reyes' Miss Consuelo, and Southern Christmas, Robert Clyman's The Lower Cortex at Playwrights Theatre of New Jersey, Athol Fugard's Blood Knot at the 78th Street Theatre Lab and Kaleidoscope's productions of Little Miracles and The Stairwell. He's directed Jim Grimsley's Math and Aftermath for Harland Productions, The Borderland at Currican and Marshall Mays' To Have and To Hold at Synchronicity and most recently A.R. Gurney's Sylvia for the University of Wisconsin.
Tina Stanley (Lighting Designer) recently completed her second season as Technical Director and her third season as Resident Lighting Designer at The Theatre Outlet in Allentown, Pennsylvania. Some of her favorite lighting design credits include Don Pasquale for a touring production of the Metropolitan Opera, The Beauty Queen of Leenane, Picasso at the Lapine Agile, and R.U.R., at Theatre Outlet, and The Stairwell for Kaleidoscope. Tina holds a BA in Theatrical Directing, a BA in Theatrical Design, and is currently working toward her MFA at ViIlanova University.
John Hopwood (Technical Director) comes to the Kaleidoscope Theatre Company from Allentown, Pennsylvania, where he is the Co-Technical Director at The Theatre Outlet. Some of his favorite technical credits include set construction for Frankle and Johnny In the Clair de Lune, creating the effects for The Beauty Queen of Leenane, an effort which won him a regional award for "Best Stage Effects of 1999 and participating in the world premiere of Honour Kane's Crackskull Row at the Inishbofin Arts Festival in Ireland.
Kathleen Cullen (Costume Designer) holds an MFA in Theatre from Penn State. She has performed in Shakespeare as well as contemporary and children's theatre. She joined the Kaleidoscope theatre Company as costume designer for their last production of The Stairwell. She has also worked as a choreographer, a playwright an a nurse. Reckless has been an imagination stretcher and a designer's delight to work on.

---

Some Things You May Not Have Known About Christmas

The concept of a jolly Santa Claus was first made popular in New York in the 19th century.

Little is known of St. Nicholas but he is traditionally identified as a 4th Century bishop of Myra in Asia Minor. He is the subject of many legends. St. Nicholas is credited with restoring to life three boys who had been chopped up and pickled in salt by a butcher.

In England, after the Reformation, the observance of Christmas became a point of contention between Anglicans and other Protestants, and the celebration of Christmas was suppressed in Scotland and in much of New England until the Nineteenth Century.

The tradition of the Christmas tree comes from Germany during the Middle Ages. Because they manufacture only part of the nutrients they require, Mistletoes are aerial hemiparasites, attaching themselves to host trees and shrubs from which they absorb water and food. Now, that whole Mistletoe thing makes sense.

El Nino, which translates at The Child in Spanish, is a warm surface current that usually appears around Christmas in the Pacific off Ecuador and Peru and every 2 to 7 years persists for 18 months or more, causing a large scale climatic fluctuation of the tropical Pacific Ocean.

Jimmy Stewart played George Bailey in It's a Wonderful Life in 1946. In the movie George Bailey is stopped in his attempt to kill himself by an angel. It's a Wonderful Life is shown on TV every Christmas. Suicide rates often increase during the holiday season. It's probably just a coincidence.

Based on facts from The Columbia Encyclopedia, Sixth Edition.
---
Mission Statement
At Kaleidoscope, we believe that theatre exercises our humanity, it stretches our compassion, it feeds our wit, and it refines and marinates our wisdom. Theatre expands our personal experience, challenges our thinking, and reveals the true realities of our existence in small doses. Very small doses. It's really great if it can be funny too. We see ourselves as stealth educators in humanity, society and reality. Please humor us in this regard.
Our audience is a treasured part of our ensemble and we feel we owe you the very best that we can offer. We truly believe that great comedic plays can have a transforming power and our mission is, with laughter, to fling our audiences "into a kaleidoscope of new possibilities."