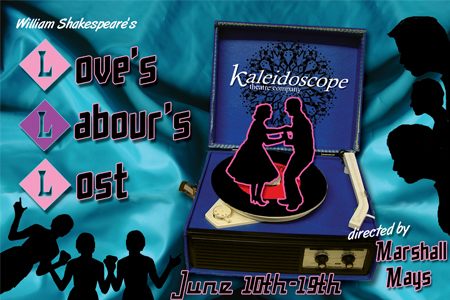 The Studio at Cherry Lane Theatre
38 Commerce Street
New York, New York
#1 Train or PATH to Christopher St.
A/C/E, B/D/F/V to West 4th St.
Su
Mo
Tu
We
Th
Fr
Sa
June 10
7PM

June 11
7PM
June 12
7PM
June 14
7PM
June 16
7PM
June 17
7PM
June 18
7PM
June 19
2PM
7PM
Tobin Waskom* - Stage Manager
Anne Posluszny - Scenic Design
Bradley Thompson - Lighting Design
Anthony Catanzaro - Costume Design
Kyle Gordon - Sound Design
Gary Slavin - Choreographer
Donna Heffernan - Graphic Design
Irwin B. Kroot - Assistant Director
Laura Henry - Dramaturg
Directed by Marshall Mays
| | | | |
| --- | --- | --- | --- |
| Andrea Alton* | Varin Ayala | Brad Barfield | Ilene Bergelsen* |
| Todd Allen Durkin* | Donna Heffenan | Gavin Hoffman* | Kirk McGee* |
| Joe Ponessa | Cynthia Posillico | Najla Said | Celia Schaefer* |
| Matt Schuneman | Dan Truman | Melissa Wolff* | Marshall York |
Kaleidoscope brings its distinctive style and verve to the classics with this production of Love's Labour's Lost. After wowing audiences in past seasons with our productions of She Stoops to Conquer and As You Like It, Kaleidoscope tackles one of Shakespeare's wittiest but darker early comedies.
The King of Navarre has decreed that for three years, his three closest, friends and advisers, Berowne, Longaville and Dumaine, shall devote themselves to study, fasting, and along with the rest of his small kingdom, shall not consort with women. As always, the brilliant idea of the State trying to legislate these matters of the heart will be doomed from the start, for the Princess of France and her three lovely ladies-in-waiting, Rosaline, Maria and Katharine, have just arrived in town on official business. Despite their lame efforts to enforce this new edict on the common people, the King and his lords get their just rewards at the hands of the ladies in this classic battle of the sexes.
With a strong ensemble of Kaleidoscope regulars and some new faces, the show features costumes by Anthony Catanzaro (who designed Kaleidoscope's productions of She Stoops to Conquer, God & Mr. Smith, and The Irreplaceable Commodity, set design by Anne Posluszny, lights by Bradley Thompson, choreography by Gary Slavin (who directed and choreographed The Irreplaceable Commodity) and original music by Kyle Gordon.
Director Marshall Mays has spiced up and updated the conflicted between these fully human characters and the King's decree that ignores the unpredictable desires of real people with some pointed cross-gender casting. And he was also inspired - or completely warped by the bands and singing groups of the late 1950's, whose innocence would soon be altered by the turbulent events of the next decade.
Love's Labour's Lost was probably written in 1593 and then latter revised in 1594 as some scenes and references point to inconsistencies in the flow of the plot. Love's Labour's Lost holds the distinction of being the first play to feature Shakespeare's name printed on the title page. The first recorded performance of the play was in Christmas 1597 for Queen Elizabeth. While the play contains more topical allusions than any other of Shakespeare's works, it has remained a popular comedy and is repeatedly revived today.
---
Mission Statement
At Kaleidoscope, we believe that theatre exercises our humanity, it stretches our compassion, it feeds our wit, and it refines and marinates our wisdom. Theatre expands our personal experience, challenges our thinking, and reveals the true realities of our existence in small doses. Very small doses. It's really great if it can be funny too. We see ourselves as stealth educators in humanity, society and reality. Please humor us in this regard.
Our audience is a treasured part of our ensemble and we feel we owe you the very best that we can offer. We truly believe that great comedic plays can have a transforming power and our mission is, with laughter, to fling our audiences "into a kaleidoscope of new possibilities."