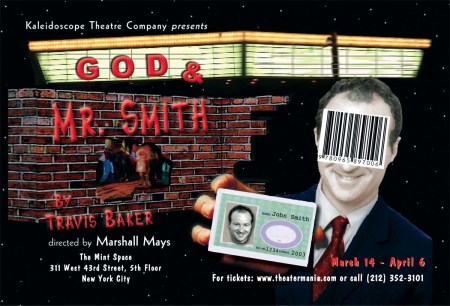 Performances begin Friday, March 14, 2003
Opening: Thursday, March 20, 2003
Performances Wednesday - Saturday at 8PM
(Added performances: Monday, March 17th at 8PM; Sundays, March 30th/ April 6th at 3PM)
Final Performance: Sunday, April 6, 2003
The Mint Space
311 West 43rd Street, 5th Floor
Tickets: $15
Theatermania.com or call (212) 352-3101
Featuring:
Birgit Darby, Todd Allen Durkin, Daryl Lathon, Lucy McMichael, Michael Nathanson, Najla Said, Dan Snow and Jim Wisniewski
Directed by Marshall Mays
Running time: 2 hours with intermission
---
Without a Social Security number, credit history and a lifetime of data, do you really exist? God & Mr. Smith is the unpredictable comedy of a man battling his family, society and the bureaucrats as he tries to right what a computer done wrong.
For information on our first production of God & Mr. Smith, including photos and an interview with playwright Travis Baker, click HERE...
Travis Baker's (playwright) NY productions include the critically praised production of The Weatherbox at the Rattlestick Theatre; COLD; Sex & Violence and Peeps: A Modern Tragedy. Awards include the Berrilla Kerr Award for American Playwrights, Edward F. Albee Foundation, and Society of Professional Journalists Award for Excellence in Editorial Cartooning.
Marshall Mays (director) Kaleidoscope productions include: As You Like It, Reckless, The Game, Unearthed, and the premieres of Liz Bartucci's The Calling and Keith Merritt's The Stairwell. He has also directed at the Theatre Outlet in Allentown, and the PA Stage Company.
The creative staff includes: Scott Aronow (sets); Michael K. Berelson (lights); Anthony Catanzaro (costumes) and William Cusick (sound)
- Press Contact -
JOE TRENTACOSTA
SPRINGER/CHICOINE
Public Relations
1501 Broadway Suite 1314A
New York, New York 10036
(212) 354-4660
Fax (212) 354-7588
joe@springchicpr.com
---
Mission Statement
At Kaleidoscope, we believe that theatre exercises our humanity, it stretches our compassion, it feeds our wit, and it refines and marinates our wisdom. Theatre expands our personal experience, challenges our thinking, and reveals the true realities of our existence in small doses. Very small doses. It's really great if it can be funny too. We see ourselves as stealth educators in humanity, society and reality. Please humor us in this regard.
Our audience is a treasured part of our ensemble and we feel we owe you the very best that we can offer. We truly believe that great comedic plays can have a transforming power and our mission is, with laughter, to fling our audiences "into a kaleidoscope of new possibilities."