The Kaleidoscope Theatre Company presents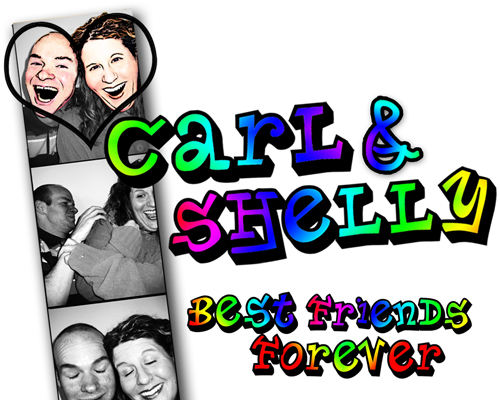 Carl & Shelly, Best Friends Forever
Written and performed by Andrea Alton* and Allen Warnock
Directed by Janice L. Goldberg
With a little help from 80s sitcoms, poetry, and hot glue, Carl and Shelly, hosts of the outrageously popular public access show Poetry Craft Corner, are bonded for life. When the "other woman," a once-in-a-lifetime opportunity and ravenous roaches threaten their relationship, will they remain Carl & Shelly, Best Friends Forever? A one-act comedy about friendship, Alf and forgiveness.
Returning from the 2008 NY International Fringe Festival.
Theater 3
311 West 43rd Street
3rd Floor
February 6 - 28, 2010
Writer/Performers Allen Warnock and Andrea Alton have created two of the most hilarious characters to ever grace FringeNYC. (HyReviews.com)
Warnock and Alton have impressive versatility and charisma and endow [Carl and Shelly] with plenty of heart. (NYTheatre.com)
Seymour* - Stage Manager & Props Design
Anthony Catanzaro - Costume Designer
Arnold Bueso - Set Designer
Daniel Winters - Lighting Designer
Jason Evans - Sound Designer
Kyle Gordon - Composer
Donna Heffernan - Art Director
Daryl Lathon - Video Designer
Daniel Winters - Production Photography
Assoc Producers - Andrea Alton, Irwin Kroot, Marshall Mays, Alec Stais, Allen Warnock
Press Contact - Lanie Zipoy | Avece Promotions | 646.399.8650 | lanie.zipoy (at) gmail.com
* appears courtesy of Actors Equity Association
An Equity Approved Showcase
(click on thumbnails to enlarge)
---
Mission Statement
At Kaleidoscope, we believe that theatre exercises our humanity, it stretches our compassion, it feeds our wit, and it refines and marinates our wisdom. Theatre expands our personal experience, challenges our thinking, and reveals the true realities of our existence in small doses. Very small doses. It's really great if it can be funny too. We see ourselves as stealth educators in humanity, society and reality. Please humor us in this regard.
Our audience is a treasured part of our ensemble and we feel we owe you the very best that we can offer. We truly believe that great comedic plays can have a transforming power and our mission is, with laughter, to fling our audiences "into a kaleidoscope of new possibilities."