Carl & Shelly Productions
in association with
Kaleidoscope Theatre Company present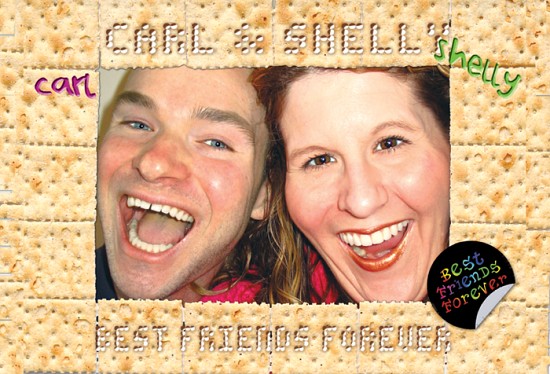 Carl & Shelly: Best Friends Forever
Written and performed by Andrea Alton* and Allen Warnock
With a little help from 80s sitcoms, poetry and hot glue, Carl and Shelly bonded for life. Then, the "other woman" and ravenous roaches separated them. Will they remain Best Friends Forever? A one-act comedy about friendship, Alf and forgiveness.
August 8, 2008 - 7:15pm
August 12, 2008 - 3:00pm
August 15, 2008 - 5:45pm
August 17, 2008 - 9:30pm
August 21, 2008 - 7:30pm
Theatres at 45 Bleecker Street - The Lafayette Street Theatre
(Fringe Venue #14)
45 Bleecker Street, New York, NY
(R/W train to Spring Street, B/D/F/V to Broadway-Lafayette, 4/6 to Bleecker Street)
Director: Jay Duffer
Assistant Director: David Matherly
Stage Manager: Eva Schelbaum
Set Design, Crew: Ira Cohen
Costume Designer / Genius: Anthony Catanzaro
Lighting Design: Carol Feeley
Composer: Kyle Gordon
Art / Marketing Director: Donna Heffernan
Associate Producer, Crew: Irwin Kroot
Associate Producer, Press Rep, Crew: Ken Eichler
Associate Producer: Marshall Mays
Company Liason: Brandon Strawder
Promo Videos: Daryl Lathon
Press Photos: Jannelle Lannan
Venue Director: Nicole Brickley
* appears courtesy of Actors Equity Association
---
Mission Statement
At Kaleidoscope, we believe that theatre exercises our humanity, it stretches our compassion, it feeds our wit, and it refines and marinates our wisdom. Theatre expands our personal experience, challenges our thinking, and reveals the true realities of our existence in small doses. Very small doses. It's really great if it can be funny too. We see ourselves as stealth educators in humanity, society and reality. Please humor us in this regard.
Our audience is a treasured part of our ensemble and we feel we owe you the very best that we can offer. We truly believe that great comedic plays can have a transforming power and our mission is, with laughter, to fling our audiences "into a kaleidoscope of new possibilities."